How to Make Pour Over
Our pour over coffees use 100% arabica, specialty-grade beans sourced with our Source-to-Soul™ impact philosophy in mind. It's quality coffee that's more than just a cup of coffee. Best enjoyed wherever you wander.
Anchor
Tear open the pour over filter along the perforation. Anchor it to your mug and fold the sides of the anchors backward for extra stability.
Pour
Pour 200°F (just below boiling) water over the coffee and into the filter until 8-12oz of coffee is brewed, depending on how strong you like your coffee. For optimal results, pour continuously.
Enjoy
Pause a moment to appreciate that you just made a fresh cup of coffee in less than 2 minutes, then enjoy your #KujuMoment with a freshly brewed cup of pour over coffee.
Guide to Find Your Favorite
Day 1
Medium Roast
Basecamp Blend
Oak • Chocolate • Honey
Available As:
Day 2
Premium Single Origin
Ethiopia
Fresh Blueberry • Morning Citrus • Honey
Available As:
Day 3
Dark Roast
Bold Awakening
Earthy • Dark Cocoa • Dried Berry
Available As:
Day 4
Light Roast
Angels Landing
Floral • Nutty • Citrus
Available As:
Day 5
Premium Single Origin
Papua New Guinea
Maple Syrup • Red Oak • Dark Chocolate
Available As:
Day 6
Premium Single Origin
West Sumatra
Aged Berry • Toasted Cocoa • Apricot
Available As:
#kujumoment
Customer Reviews
Write a Review
Ask a Question
I recommend this product
Starter pack first open
We had a bad thunderstorm last night waking us up at 2 am with no power. Opened one of my sampler boxes for a cup of coffee for my hubby and me. So easy to use and prepare! We both very much enjoyed our early morning coffee treat.
06/11/2021
Eric D.

United States
I recommend this product
Unbelievable coffee
I am a french press kind a guy and not a fan of the conventional coffee pot. I wanted to try the pour over to see if there was a difference....well hence my IG name boldthecoffee ..... I really enjoyed the bold flavor.... I actually bought some more and waiting for it. Definitely some great coffee. #keepitbold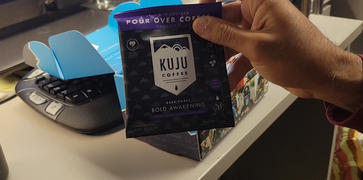 06/07/2021
sharon l.

United States
I recommend this product
1sttimer
Love it!!! More future orders
06/04/2021
James O.

United States
I recommend this product
Excellent product
The product was quite simple to use and the coffee was fantastic. I took it on a short trip to the north woods where we enjoyed nature and juju coffee. Spot on
05/10/2021
Jeff M.

United States
I recommend this product
Kuju Starter Pack
Very pleased and love the mug