Coffee That Loves the Earth
Founded by two Eagle Scout brothers, Kuju believes in proactively giving back to Earth — from supporting local farms to donating 1% of all revenue to national parks.
Coffee That Wins On Taste
Kuju's pour overs are 100% specialty-grade with more coffee grounds in our filter than any other competitor. That's why we're the highest rated pour over coffee online!
Coffee Trusted For Adventure
From REI and Sportman's Warehouse to the pockets and backpacks of coffee lovers around the world, we're the trusted outdoor coffee brand for countless adventurers.
Craft Coffee in Two Minutes
With just a little hot water, you can brew a full cup of high-quality coffee. Rip, anchor, pour, and enjoy!
"If pour over java is your jam, this one's for you."
Kuju Coffee has been featured and seen among numerous respected retailers and publications.
Customer Reviews
Write a Review
Ask a Question
12/25/2021
Debby R.

United States
I recommend this product
Refreshing
This coffee has a smooth nutty flavor, nice morning coffee.
09/24/2021
Jacalyn

United States
I recommend this product
Good Stuff
This coffee is easy to use, tastes smooth and rich. It is a wonderful product to use
09/21/2021
Anna B.

United States
I recommend this product
Perfect brew for adventures or home
I absolutely love this coffee and the Angel's Landing in particular. Their other brews are fantastic, but I'm a light brew person. The coffee is NOT acidic or burnt tasting… which speaks volumes as I would classify myself as a bit of a coffee snob having such great access in the PNW. I was using some name brand instant coffee packets because of the simplicity, but after feeling like I had to "just get through" the cup, it was time to switch. Turns out the Kuju packs are super simple to use and produce MUCH better results. I keep these packets in my camp gear, a couple in the car, and obviously a bunch stashed at home. Highly recommend.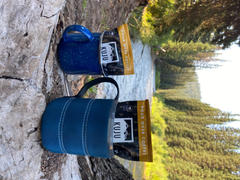 07/07/2021
Cynthia M.

United States
Saving for camping trip in August
Saving for camping trip in August shipping and delivering was great have not tried to coffee yet wait until after August give review then
06/15/2021
Christina S.

United States
I recommend this product
Best coffee. Period.
Didn't realize how much I love a light roast until I tried Angels Landing. So very good!